Color Magic
A new show on October 1, 2015.
Color Magic is an exhibition of art by two of Borderline's artists, Myat Thein Zaw and Bo Bo. Their styles are different and eclectic.
Myat Thein Zaw divides his art between realism and pure abstract art. The abstract work shows much more of his inside than most other artists dare to uncover. While those pieces tell a lot about him, the observer will see something completely different.
Bo Bo has been around Borderline since the start and his art has undergo several changes during that time. He has now going into a new phase and the works he will show are probably the most intimate he has made.
As usual the show opening is from 6 pm to 9 pm and drinks and snacks will be provided. The show runs from October 1 till October 15.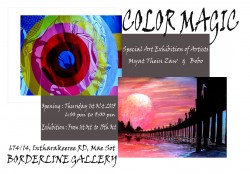 ---