Flood Fund Raiser
Burma is inundated with water. The response by local organisations has been swift, we can help by giving them the funds to continue their assistance. Borderline collaborates with Community Partners International (CPI) to raise funds for their extensive network of local health organisations. CPI has promised to double the amount of money we raise, so lets make it worthwhile.
This Thursday, August 6 is the monthly special exhibition, and Borderline will donate the 25% running cost of each sold artwork at the show to CPI. The artists will receive their well earned 75%.
During this week, Borderline will sell the Art-Card sets as usual, however 100% of the proceeds will be donated to CPI, so come and buy your set of 16 art cards, with beautiful reproductions of art made by Borderline artists as Sein Sein Lin, Nyan Soe, Bo Bo, Wana Zaw, Saw Poe Dah and Saw Chu Cil. A set of 16 cards cost 250 baht, all for CPI who will double it!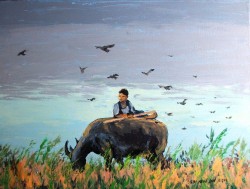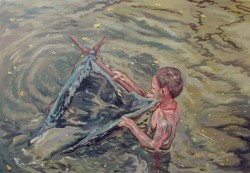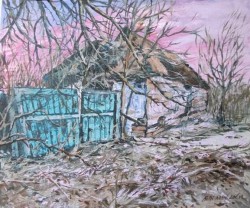 Sein Sein Lin started this by donating 3 of her prized artworks for sale, with 100% going to CPI. Her three works can be seen in Borderline shop. We want to auction these three artworks and have set minimum prices. If you want to own a genuine Sein Sein Lin art work, and everybody should have one, this is your chance. It's also your chance to bid for a piece of art! And the best part is, the more you pay, the more CPI will add!
This and next week also all proceedings from our Cooking Class will be donated to CPI. So gather your friends and learn how to cook. You will eat so much better knowing that others inside Burma can continue their fantastic work in helping the flood victims.
And you can also just donate money in the special box, and know it will be doubled by CPI while matching funds last.
Other artist have also donated art work. John Khai will sell one piece for victims in Kachin State, Saw Poe Dah has donated three pieces of art, Moe Min has donated one piece of art and Wana Zaw will sell postcards and make drawings, all for fund raising.
---