Who has visited Mae Sot in the past and would walk through the town in 2019 would notice changes in architecture, size, height, logos on trucks. What hasn't changed is the eclectic fabric of the population, not unusual for a border town.
Depending on the time that has passed between two visits, the wanderer would notice that more mom and pop shops have been replaced by identical looking air-conditioned substitutes where customers are further conditioned into buying non-local. Shopping malls have popped up where once rice was grown and harvested. Brand new shiny coffee shops can be found on every street corner and the streets look cleaner than before.
In between these new sights are places that have not changed and still offer the same as before. The maple leaf still hangs proudly in front of Dave's restaurant, the night market still has the same family restaurants as before, the market is still the sprawling chaos it has always been, Burmese is still the most spoken language.
The many markets that have dotted the city for years keep looking for new empty lots and like Chiang Mai, there is now a Saturday walking street, often starting on Friday and continuing on Sunday. It stays Mae Sot.
A few months ago in the Chinese Street where the walking market takes place, there was a special market with indigenous people showing their culture and offering their products. The audience was as colourful as the people behind the stands. A cultural highlight was a small showcase by Karen singer and harp player Chi Suwichan & Kuewa. Their beautiful voices circling around each other and the sounds from the strings.
Chi was also one of the organisers of this event and at Borderline with the strong connection with indigenous groups and Chi, we liked the idea of a special market where friends of Borderline could showcase their organisations and sell their products on our 15th Anniversary.
Inviting friends started a little late, this didn't stop 13 local organisations to come and set up shop on the tables that were on loan from our neighbours, Wat Aranyaket.
The day had began with a Batik Workshop, given by Sein Sein Lin who has been part of Borderline family since the start. First as artist, then as curator, as interpreter during cooking classes and now as visiting Batik instructor and event presenter. Staff at Borderline has always been encouraged to diversify. Meaning, being flexible.
At around 3 pm it were the staff from Mae Tao Clinic who picked the first table, soon followed by the ladies from Sojourn who started to display their jewelry. It took an hour until all groups had settled, by then dozens of curious visitors were hovering around the tables, learning about the objectives and aims, tasting some of the offerings and buying products.
And eating ice cream! Borderline founder Sylvia Lin had donated a cylinder of Mae Sot's own ice cream, and Poe Poe was assigned to hand out the ice cream to all children who showed up. Definition of a child: Any person who likes ice cream.
In the meantime, Stephen and his team had set up their sound system so the invited musicians could be heard all over the compound. At that moment we were not sure who would come and play, and if there would be a player at all? We had asked Chi Suwichan, who has played at Borderline before, to come but unfortunately he had another appointment.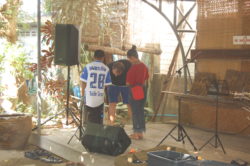 Meanwhile in the kitchen the wonderful women of the Tea Garden were cooking up a storm so all guest could have a taste of their magic. Their sisters from Chimmuwa were on hand to assist and as 6 pm neared, it became clear that food and music would be ready on time.
Wunna Zaw, Borderline artist and art teacher in Mae Sot, had mobilised some of his Minmahaw students and he even went back to get a guitar, that somehow nobody had thought about to secure before. We were also eager waiting for a Don Dance group from CDC school, and as we had not heard a confirmation they were coming, it was a great relief when suddenly 6 young students in full Karen Dance clothing showed up.
The food was ready at 6 pm and soon a long line of people could be seen with plates in their hand and food in their mouth. Their ears would soon be filled by the voices of Sein Sein Lin and EBet who both would present the evening program. Sein sein Lin in English and Burmese, EBet in Thai. Like most on this day, not much if anything was rehearsed. As is common in Karen culture, Go with the Flow.
The first stage act was a direct hit. A recent member of the Borderline family is Hemp Phopphra from Village 44. This community grow Hemp Plants and turn the stem fiber into threads which they turn into fabrics after colouring the threads using plant based dye. Dressed in their beautiful traditional dresses, two members of the group would show on stage a small part of the process. Instantly a group of young students from CDC and Minmahaw would jump on stage to have a closer look. Young people have much more curiosity than mobile phones.
Two Hmong women show how to turn hemp fiber into thread.

This time consuming labour seems easy done by profesionals.

EBet giving her commentary.

Dressed in home made clothing.

Young students observe and learn.

Why we elect boring looking men in grey suits is a complete mystery.
After this showcase the dancers would take the stage and 6 young Karen Dancers occupied the small stage to do a traditional Don Dance with rather more modern sounding music. The red from the girls contrasted nicely with the green from the boys.
The Don Dancing group form CDC.

"Landadies Grandchildren Dancing group".

After the performance.

Star of the evening.
In the spirit of the day, an impromptu dance was done by three young girls who live in the house of Borderline's landlady. Of different ages they were also of different temperament. The oldest one had studied and learned her dance very well and for several minutes she showed us some of the traditional Burmese moves. The phone with the music had several starting problems which did not interfere with her determination. The middle one stood basically still the whole time the dance took place, but that was only to compensate for the relentless jumping up and down by the youngest performer of the evening.
Just two weeks before the anniversary we came up with the idea to have a fashion show and we started to look for potential models. With a small list of 'perhaps' and 'maybe' plus the confirmation of a few Hmong women we hoped for the best and as so often the best happened. Starting off with the young dance group and several other young children there were 16 models in total.
From Women Development Group, WDG.

Hemp Phopprha group.

How the strurdy Hemp can be transformed in this almost silk-like fabric is still a mystery.

Never forget matching shoes.

Hmong 18 year old matron.

Chimmuwa, Karen natural dyed cotton.

Super Star Power
Before we got to the cake there were two speeches of which the shortest one described what Borderline stood for best, a place where people can gather and be creative and this evening was a beautiful testimony of this.
A Present from BSC and two Home Made Cakes.

'Happy Birthday'

"It will be mauled in the mouth anyway".

Universal favourite.
The students from Minmahaw who offered to play music finally got the stage for themselves and they delighted us with their singing and guitar playing. Some of the songs apparently written by themselves.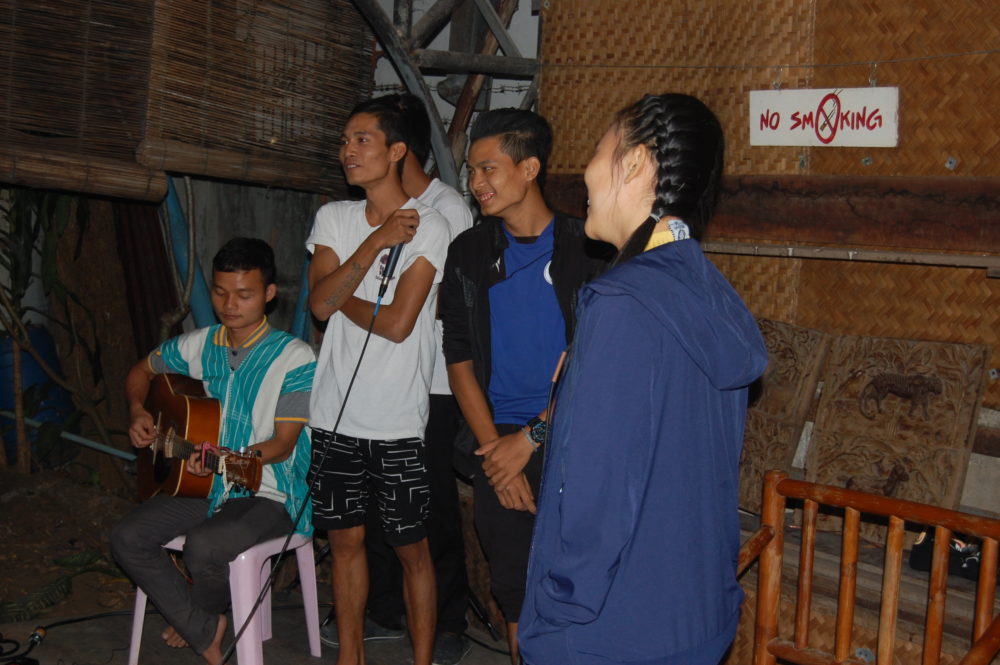 At 9pm it was all over, the guests had all gone home the tables left empty, food all consumed, ice cream melted inside stomachs, Stephen and crew busy packing up and lots of cleaning to look forward to.
The anniversary was a celebration of 15 year Borderline in Mae Sot, a feat that was not envisioned all those years ago. It was also a celebration of diversity, a celebration of indigenous, a celebration of not over organising.
We as a team enjoyed putting it all together, seeing all those happy faces, watching people meet and exchanging details and ideas. Lots has changed in Mae Sot, some organisations find it harder to get funding, programs are cut or minimised or have moved to Yangon. And even though there are needs over there, the border and the people living here also need our attention and support.
There is often talk about unity and togetherness, to see this on our little compound made us very happy. In the past we have planted trees and plants, sometimes starting with just a seed. Our example encouraged our landlord to plant bamboo at the back and the beautiful mango tree in the middle. He could be seen walking the market and going home with books bought from Curriculum Project and Mote Oo.
We need to thank all of you who attended. Especially the people who joined out walking market from Hemp Phoppra, Karen Human Rights Group, Burma Study Centre, Sojourn, Curriculum project, Mimmahaw, Youth Connect, Mote Oo, Hospitality and Catering Training Centre, Suvanamit, Mae Tao Clinic, Help Without Frontiers, Ay Yone Oo Learning Centre, Parami, Thu Kha Hang Sar. Stephen and his sound team, the dancers from CDC, the singers from Minmahaw, all the models on the catwalk, Wat Aranyaket and everybody we forget to mention here.
There were people who helped us finding people, singers, dancers and models and many more.
Of course 15 years is not possible without people who helped in the past, and we need to thank our previous staff, volunteers, advisers, former members and visitors. And the women member groups and member artists who are part of our family.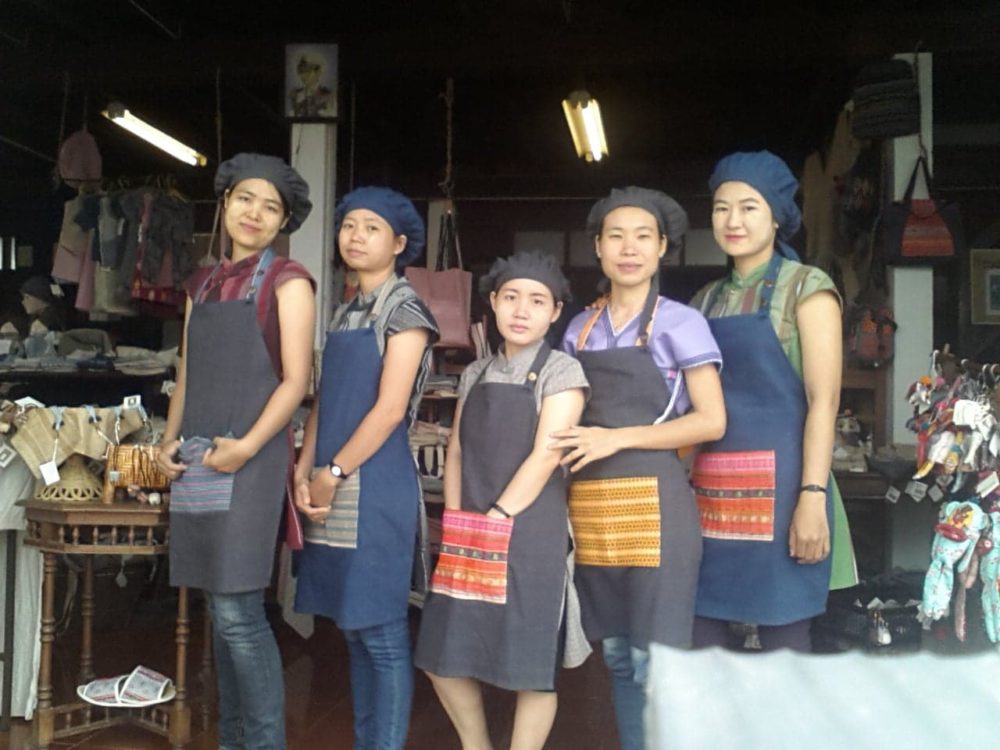 Eh Soe, Moe Nge Nge, Naw Poe Dah, Naw Eh Tha Da and Naw Wa Si Paw were the ones who prepared the food and drinks and set up tables and run the show. Naw EBet coordinated with Ton the event while Sylvia oversaw it all and arranged with EBet and Eh Soe the women's group meeting on Friday. Sein Sein Lin did the Batik workshop and presented with EBet.
Sein Sein Lin presents barefoot.

EBet presents the fashionshow.
We all did it with love, like we do every day. As Sylvia said, when is 20 years?