Short Introduction
Chin Women Group (CWG) was founded in Mae Sot in June 2007 with the aim to provide income for its members and to help preserve skills within the Chin community. At first this was mostly done by making and selling handicrafts, recently CWG has started to train young women to preserve the skills.
Founding Story
Chin State in the North-East of Burma, is one of the poorest regions of an already poor country. In this mostly mountainous state, people often live in remote places and have difficulties finding income beyond sustenance farming.
Like many people from Burma, the Chin have seen many mostly young members moving out of their state in search for jobs. This means poorly paid jobs in Yangon or Mandalay or unsecure situations in Thailand. With this exodus of youth the Chin also are in danger of losing a link with the future.
Nu Tae and friends decided to find better way of income generation connected to the preservation of skills and culture. In June 2007, WDG started with the production of handicrafts for the market in Mae Sot. These products would be on consignment at Borderline, another local young enterprise.
CWG hopes to train young Chin in the art of weaving and by incorporating traditional fabrics in modern design and product, hopes to keep culture alive.
Founder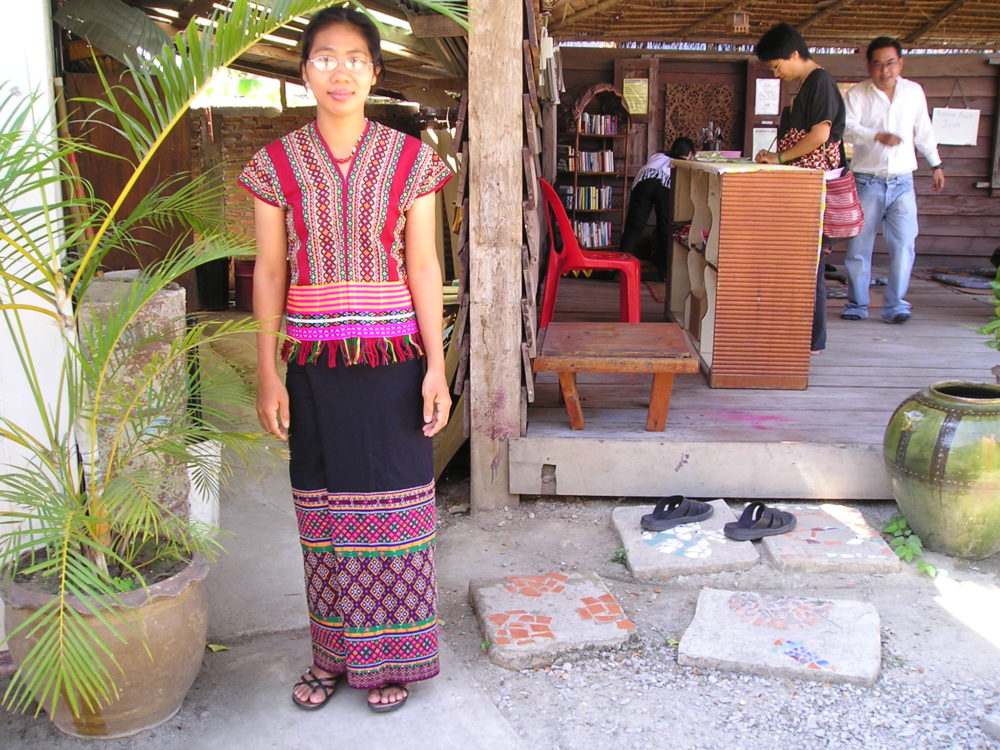 Production Process
Most fabric that CWG uses comes from Chin State in the North-West of Burma. In Mae Sot 4 young women create items like bags, pen cases, wallets, pillow cases and shawls with designs that show modern usage with traditional fabric and ornamentation.
In order to sustain CWG, staff in Mae Sot share housing and basically live in their office.
For markets CWG relies on places like Borderline and their own extensive network plus visitors to their office. Listening to customers CWG tries to upgrade design for future markets.
Recently CWG started to work in Yangon as well, training young women to preserve the skills and enlarge the workforce.
CWG explanation by Marcia

Backstrap loom

Sewing a bag
Beneficiaries
The young women at CWG have an income and a fulfilling job, communities in Chin state who sell the fabric and the young women receiving training.
Future
For the future CWG hopes to train enough young women to preserve the skills and traditional designs and they have started programs in Yangon.
By creating new designs and products, improving quality they also hope to sustain the organization and give more people a decent income.
Collaboration with Borderline
At first Borderline would offer space and keep CWG's products on consignment. Members of CWG would join workshops and meetings with other women groups. These workshops were on design and also price calculating.
Over time Borderline has been able to change some policies and now all products at the shop have been paid for on delivery, meaning the cash flow of CWG has improved so they can more easily produce new items.
Environmental Impact
CWG Large Bag

CWG Shoulder Bag

CWG Scarf

CWG Bag

CWG Large Duffel Bag