Short Introduction
Women Development Group (WDG) is a Indigenous Women organisation that operates from Chiang Mai. Currently 7 women produce the handicrafts that is sold in several places in Chiang Mai and at Borderline. Members are Lahu, Akha and others who have problems with citizenship and access to the labourmarket.
Founding Story
In and before 2005, the conditions for the Lahu in Northern Thailand were full of challenges. Lack of proper citizenship and lowly paid jobs, as low as 90 to 120 baht a day, meant that people made long hours and still could not afford to have their children complete education. Those working at home being paid for pieces of work did not fare much better. For a bag they would receive 12 baht, for a shirt 35 baht.
To get out of this situation WDG was founded, the word Development as indication the women wanted to see improvements in their lives, access to health care and better education opportunities for their children.
Besides this, the women also wanted to strengthen the social structure and the religious life of the community. At the start 35 women joined WDG. Over time many were able to receive Thai citizenship, learned the language and were able to secure jobs in Thailand. Often using skills learned with WDG.
This means the organization is now a lot smaller with 7 members.
Founder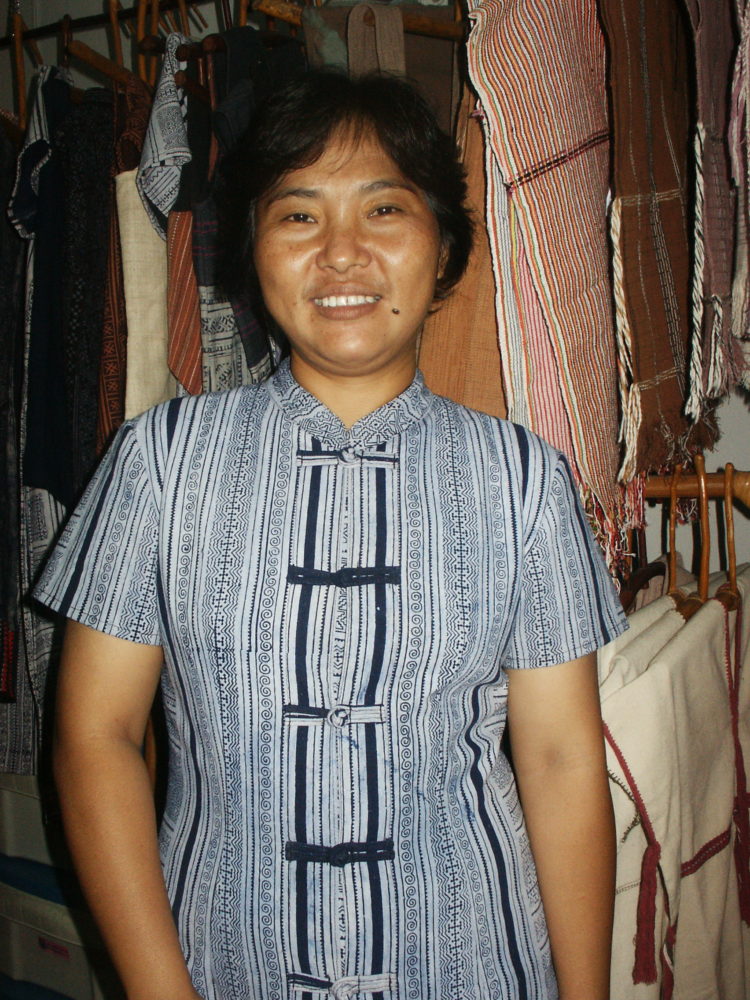 As daughter of the village leader, Ma Li was extra vulnerable when the Burmese army attacked their village near Tachilek, and she run away to Kyint Done where she finished grade 10. To support her further education she went to work in Thailand and when her village was again attacked and taken over by the army she was unable to return and she stayed in Thailand having jobs in construction and as a cleaner.
At that time the Lahu Women Organisation (LWO) was looking for grade 10 graduates to go to Mae Sot for a medic training to serve in Burma and the Thai Lahu communities.
In Mae Sot she came into contact with Borderline and she talked with LWO about setting up an income generating project which still runs today. In 2005 she decided to start WDG and focus only on handicrafts and training of new members.
Production Process
Realising the market has special wants, members of WDG find their inspiration in magazines, the internet and on shopping streets and markets. Also Chiang Mai is full of cheap products, so they need to be different and set themselves apart with clever design and high quality.
Using traditional fabrics they often create something new out of something old like mixing two different designs into one. To get the fabrics, WDG visits markets in Chiang Mai and surroundings and also in Burma.
The members work at home and WDG helps them with material, sewing machines and other tools and provide money when that is needed in the process. On top of that they can assist members if they have a personal challenge.
As WDG is a long running project, there is a constant need to upgrade, improve and be ready for the future.
Beneficiaries
The direct beneficiaries of WDG are the members who can supplement their income. Also the Lahu people benefit as old skills are not lost in modern times and cultural designs find their way in useful products.
Future
With a market at home that is limited in size, WDG in collaboration of Borderline, is looking for markets abroad. In order to be successful it is important to keep the quality high and to hear from the customers what they want.
Collaboration with Borderline
From the start WDG has worked closely with Borderline joining workshops on product design, learning how to set a fair price, how to market and how to create new products.
Borderline liaises in between customers abroad and WDG in Chiang Mai. A process to come to a new product that an overseas customer is happy with can sometimes take a few months from initial idea to a final product being shipped.
As show that practice is a good way for learning, these processes over time get shorter while the quality of the products goes up.
Borderline is also able to support WDG when they need to invest into a new product.
Environmental Impact
A Lahu outfit

Another Lahu outfit.

A newly designed bag.

Batik and authentic design. A purse.

Intricate designed purse.