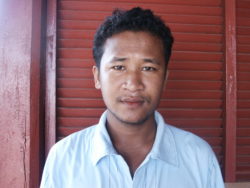 Profile
He was born in 1981 in Rakhine State and has loved painting and drawing since childhood. By the time he was 13, he was approaching local artists for lessons.
When he was 16, he studied under a female artist for one year in Rangoon, Myaut Oo Kalabat Township. After arriving in Mae Sot, he worked at a knitting factory, while looking for opportunities to learn more about art.
He became a member of Borderline Gallery in 2008, and had his first exhibition, "Beyond the Dark," in 2009. After that, he exhibited many times with other artist friends.
He began working at Mae Sot's Gemstone Art Factory, where he met many other artists and had more opportunities to learn.
He likes both realism and abstract. The most important thing for him is to express his feelings through his work; his inspirations come from within his own thoughts. He enjoys painting his memories and reflections of his past.
He was a student of art in the past, continues studying art now, and will always study art in the future.
Mae Sot, September 27, 2015
---
"A personal view on Myat Thein Kyaw"
When he became a member of the Borderline Collective in 2008, I met Myat Thein Kyaw. Without too many shared words we communicated mostly around his art work.
In the beginning he mostly painted real life scenes and within the collective his work did not stand out. At meetings he could also be a silent participant liked by all.
Hanging a show in Chiang Mai's "Sangdee" Gallery with Bo Bo I noticed some very interesting abstract paintings that turned out to be Myat Thein Kyaw's work. And suddenly he was everything thing but silent.
These paintings were as loud as you could imagine, or whispered a message so strong you had to sit and notice. Bo Bo told me that one day working in the Gem stone factory, Myat thein Kyaw told a colleague he couldn't stand the noise, of machines, of people. This colleague told him to put it on canvas, which he did.
Our artists combine two great skills. The technical ability to use brushes and canvas or paper and combine colours, and the ability to put thoyghts and feelings into a creative expression. The abstract work of Myat Thein Kyaw are the loudest expression we have seen.
Ton Baars Mae Sot, November 6, 2019
---
Fact File
| | | |
| --- | --- | --- |
| Born | 1981 | Arakan State |
| Began Painting | 1994 | Arakan State |
| Teacher(s) | Nay Thit | Myaut Oo Kalabat Township, Yangon |
| Occupation | Artist | |
| Favourite Medium | Acrylic on paper | |
---
Exhibitions
| | | | |
| --- | --- | --- | --- |
| Date | Title | Location | Collaborators |
| August 2008 | Beyond the Dark | Borderline Gallery | Solo Show |
| September 2009 | Incredible | Borderline Gallery | Solo Show |
| July 2010 | The Difference | Borderline Gallery | with Saw Poe Dah |
| January 2011 | Points | Borderline Gallery | ? |
| November 2011 | Divisions | Sangdee Gallery, Chiang Mai | Solo Show |
| December 2012 | Excellence | Borderline Gallery | Solo Show |
| February 2013 | Sensations | Borderline Gallery | Solo Show |
| June 2014 | Expressions from the Thai-Burma Border | Sangdee Gallery, Chiang Mai | Solo Show Members of Borderline Collective Solo Show |
| October 2015 | Color Magic | Borderline Gallery | with Bo Bo |
| | | | |
| | | | |