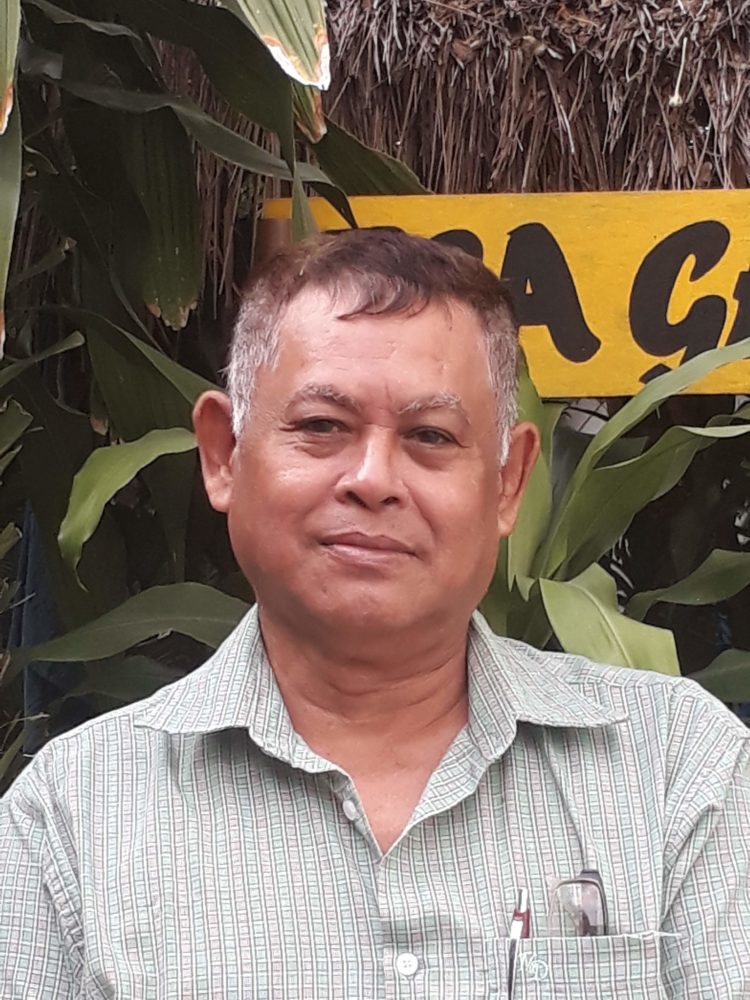 Profile
U Soe Win was borne in Mawlamyine on November 2, 1954 and he has always lived and worked in the city in Mon State. The eldest of 9 children, he was asked to join his father in their gold shop at the young age of 15. At that time, he was in grade 9 trying to pass for the second time.
Education in Burma was already deteriorating and the prospect for further study almost nonexistent. Besides, U Soe Win regularly got beaten by his teachers for drawing during class proving that education not necessarily trains you for your future life.
In the family business, U Soe Win learned how to make jewelry, using golden ornaments, necklaces, rings and bracelets as raw material. In many countries where banks are not accessible for many people, gold is the way to store money. This results in people having all kinds of jewelry that can be turned into money when needed. In a sense the family business was banking.
While the gold business provided the income to support the family, U Soe Win also wanted to continue his art and he opened a Gallery next door. Besides exhibiting paintings the Gallery was also used as a workshop. In the decades before printing machines and shops, people used artists to make copies and enlargements of photos. Signboards could be ordered and event posters.
For a while U Soe Win worked with two men who would make the signboards and posters for cinemas, concerts and events like boxing matches. Until now he regards then as his first teachers. The amount of work, variety of topics and the speed in which work needed to be finished have all added to his skills. This apprenticeship is not different from how the old Dutch and Italian masters worked.
To learn he would also make trips to Yangon where he could stay for 4 or 5 days to work with an artists and learn from him by looking as he worked. The teachers didn't want money but it was expected of an apprentice to run errands and help clean the studio or prepare a meal. Nowadays this wouldn't work as teachers expect an hourly rate.
In the Gallery U Soe Win has had his own share of students who would learn from him the skills he had developed listening to and looking at others.
Around age 40, U Soe Win parted with both gold shop and Gallery and focused solely on his art. He would still do signboards and other requests and relied on his children and savings and the occasional sale of a painting.
In 2008, U Soe Win visited Mae Sot and joined the Collective. Since the he has had several solo shows. He also repainted the outside wall in 2015 or 2016.
What motivates him
"Light and Dark" was the short answer, and then how the light makes a scene happy. Whatever is shown in his paintings, u Soe Win wants the viewer to see something happy and nothing sad. And if somebody doesn't like what he sees, too bad, he won't change.
When he sees a topic that would suit his paintings he might wait for the right light to fall on an object so as to make the painting more beautiful.
Besides landscapes, he likes to paint faces of people whit stories painted all over their face. While he has never been in Naga Land, he has a vast collection of Naga people with their colourful headdresses and weather beaten faces. Chin women with the tattooed faces, ethnic mothers with their little children, they all fill his canvasses.
Now there are no teachers who beat him for painting and he has the freedom to pick subjects and places to show his art.
Mae Sot, November 07, 2019
---
"A personal view on Wana Zaw"
Ton Baars Mae Sot, November 1, 2019
---
Fact File
| | | |
| --- | --- | --- |
| Born | 1954 | Mawlamyine |
| Began Painting | 1962 | Mawlamyine |
| Teacher(s) | | |
| Occupation | Artist | Art Teacher |
| Favourite Medium | Acrylic on paper | Watercolour |
---
Exhibitions
| | | | |
| --- | --- | --- | --- |
| Date | Title | Location | Collaborators |
| November 05, 2009 | Pieces of Burma | Borderline Gallery | Solo |
| April 2, 2010 | Glimpses | Borderline Gallery | Solo |
| February 18, 2011 | The Golden Light | Borderline Gallery | Solo |
| February 2, 2012 | Innocent Art | Borderline Gallery | Members of Borderline Collective |
| December 4, 2012 | Silent Circle | Borderline Gallery | Solo Show |
| August 7. 2014 | Two points | Borderline Gallery | with John Khai |
| February 5, 2015 | Desire | Borderline Gallery | Solo Show |
| April 7, 2016 | Dousing the Heat | Borderline Gallery | Solo Show |
| November 7, 2019 | Shwe Myanmar | Borderline Gallery | Solo Show |