Besides being a member artist of Borderline Gallery, Wana Zaw also teaches in many migrant schools in and around Mae Sot and gives private art lessons to young and old.
My name is Wunna Zaw and I was born in Yangon, Burma in 1979.
I left my home in Rangoon during 2002 to seek a better livelihood for myself and my family that I left behind in Burma. Whilst in Mae Sot I found work as a commercial artist with the G.S Art Company, producing gem stone pictures for the Thailand and overseas markets. It is here that I discovered a genuine passion for art and became interested in developing my own work.
Soon afterwards, I was introduced to Nay Thit, a well known local artist who had previously exhibited at Borderline. For many months Nay Thit acted as my mentor, teaching me about composition, colour, texture and light. I experimented with a number of mediums before finding my niche with acrylic and watercolour paint.
I have learned a great deal from my own artistic journey, and now share this with children local migrant schools, teaching art classes, allover Mae Sot. In addition I give private art classes and occasionally have assignments to make illustrations for publications. One project was to cycle across town to draw scenes to be used for a locally produced map of Mae Sot.
My main motivation now and in the future, is to help other refugee people. I want to represent our stories, memories, hopes and dreams within my work and by doing so remind the outside work of our struggles.
I am thrilled to be able to share my own work and that of my fellow artists with you here at Borderline.
Wana Zaw, Mae Sot, September 27, 2015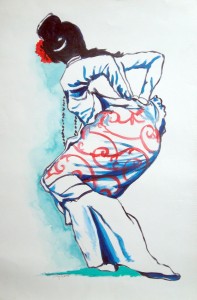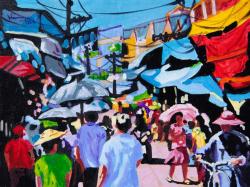 A personal view on Wana Zaw
When Wana Zaw started, his style was precise and it showed above all his skills in working with paint and brushes. His teaching heart started to develop at the same time as he started to paint and he made a point in understanding what he was doing, making sure he mixed and combined colours in a pleasing way.
Over time he became more confident and slowly found his own style and he discovered the topics that would fill his canvasses and papers through the years. Markets, street life, tempels, boats on a river, mountains and more markets. And in each scene, on every piece of art were people, almost always in a group, encountering each other in daily life.
This daily life was the life we could find across the river in Burma, the country of Wana Zaw. Although he lived within 6 kilometers of the border and most people around him also came from Burma, the scenes he showed the world seemed a world away, although the people, the dresses looked familiar.
Once I asked him why the faces on his artwork were mostly not very detailed. Often there were no eyes to be seen, mouths and noses almost a blur. He said that as he was not very skilled at faces, he preferred to make all characters in a way anonymous. This became his trademark.
Slowly he turned into an impressionist he so admired. At home he collected art books, mostly from the European masters, but also the catalogues from Yangon. Making art cards he also developed a series of acrylic on canvas paintings with a solitary dancer in stunning Burmese dresses while similar scenes were small watercolour on paper.
A passing Japanese artist had given a friend a small set of watercolours for mobile painting, and soon Wana Zaw could be seen with a small sketchbook that he filled with scenes of Mae Sot, delicate street shots with people, cars, trees, fences and temples.
His latest solos show in October 2019, was a set of Mae Sot scenes in Watercolour on Paper. Absent was the noise, the smell and even people, and those of us who had been in Me Sot for years spend some time discovering where the paintings were located.
Work of Wana Zaw is spread over the world, and each time I walk into the house of my sister in Utrecht I can see the old couple sitting with cigars and smoke around their head, a painting that you can get as a post card at Borderline.
Ton Baars Mae Sot, November 1, 2019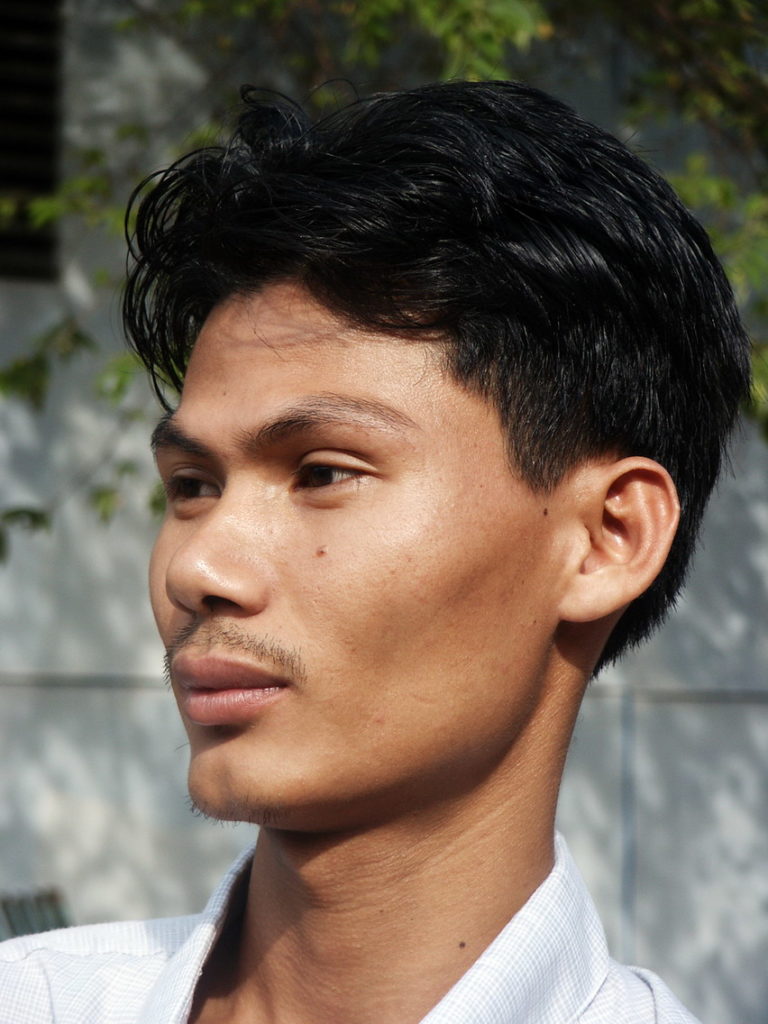 Acrylic on Paper
Watercolour
Art Teacher
Designer of Books
Illustrator