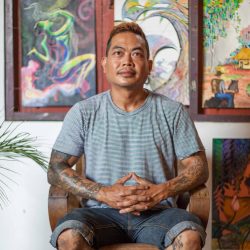 On December 2002, our long time member, former curator and colleague and dear friend Bo Bo passed away. We still miss him as he would walk in Borderline several times each week for a chat, some food or tea. And when he entered he would engage with all, made his presence clear.
Below is the biography he wrote himself. We will make some changes later on.
I was born in 1975 in the capital city of the Shan State, Taung Gyi.
My father, U Aung Latt, is an Artist, and many of my brightest memories were of him teaching me about art and encouraging me to create work of my own. So it is here; in childhood that my artistic journey began. I left Burma in 2000 because I wanted to seek better opportunities to earn a living with which I could support my family that I left behind.
I was initially able to survive by working at one of the many knitting factories in Mae Sot, but this left little room in my life for creativity and I hoped to find other realities.
Three years after arriving I became connected with the Bamboo Youth Art Project, which led me to my a position as a co-ordinator for the Global Schools Partnership Project. Working with Migrant children has been a hugely rewarding experience and has allowed me the space to explore my artwork once again.
Wanting to reconnect with an artistic community, I joined the Borderline Gallery as a member artist which has provided me with the opportunities to exhibit and develop my work. For several years I worked at Borderline in several capacities, most notably as the Gallery curator.
Currently I am manager at Puzzle Box, where I am able to work with young artists and be the guide that my father was for me. The use of different media and artistic expressions have influenced my art work once again.
In the future I hope to continue on this path, one day becoming a full time artist and returning to my home in Burma.
Mae Sot, September 27, 2015
Bo Bo
Bo Bo factfile
Born:
1975 Shan State
Started:
2000
Studied under:
U Aung Latt (Father)
Occupation:
Artist
Favorite Medium:
Watercolor and Acrylic
Exhibitions:

June 2005 Local artist exhibition, KSNG fundraiser at Borderline Gallery

August 2005 Anniversary Exhibition, Borderline Gallery

October 2005 Homa Dema, Vidya Gallery, Seattle, USA

October 2005 Here & There, Pendulum Gallery, Vancouver, Canada

December 2005 New Beginnings, Group Show, Borderline Gallery

January 2006 From Here & There, Ballard Gallery, Seattle, USA

September 2006 Group Show, Borderline Gallery

September 2007 Color Stream, With Wana Zaw,Borderline Gallery

November 2011 Divisions, Sangdee, Chiang Mai, Thailand

June 2014 Expressions from the Thai-Burma Border, Sangdee Gallery, Chiang Mai, Thailand

October 2015 Color Magic, w Myat Thein Zaw, The Borderline Gallery

Membership:
'Anniversary', August 2005, Borderline Gallery