Buddha plays a prominent role in the work of Win Htet, and maybe his birthplace Bago is responsible for that. Legend says that the Lord Buddha once remarked that on the spot where we now find Bago or Pegu as the British called it, a country would rise where Buddhism would be the religion.
In 1994, at age 18, Win Htet started to paint and some of his teachers have been U Myo Nyunt and U Than Htike. After he moved to Myawaddy in the early 2000's, he also studied under Borderline artist Saw Chu Cil.
In Myawaddy, where he still lives with his wife and son, he opened a paint shop with fellow Borderline artists Pyone Soe and Moe Win. They made signs for shops and authorities, portraits from photographs often after somebody had deceased and artwork for themselves.
Like for many artists, it is impossible for Win Htet to earn a living with his art alone, so he still has his paint shop although now running it by himself. Relocated three times, it can now be found on the main road into Myawaddy, on the left side about 100 meters after the first temple. Just look for an open room with many paintings on the walls.
Earlier this year he lost several paintings in the Myawaddy flood, an event that didn't diminish his upbeat outlook on life. And he has produced fresh work for this show.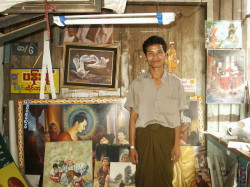 This is Win Htet in a 2005 photo during an interview for the big exhibition in Seattle
Win Htet was one of the original members of Borderline and has held 5 solo shows so far. He also participated in many group shows and his work has been exhibited in Seattle, USA; Vancouver, Canada; Chaing Mai, Thailand and several places in Mae Sot. Some of his work can always been found at Borderline, and on walls in countries all over the world.
Win Htet Fact Files:
Born in 1976 in Bago, Burma
Started painting in 1994
Teachers: U Myo Nyunt, U Than Htike, Saw Chu Cil
Favourite media are oil, water colour and acrylic
Member of Borderline Gallery Collective
Exhibitions:
| | | | |
| --- | --- | --- | --- |
| Date | Venue | Title | Type of Show |
| 29 July 2005 | Borderline | 1st Anniversary | Group Show |
| 2 October 2005 | Vidya, Seattle | 'Homa Dema' | Group Show |
| 11 October 2005 | Pendulum, Vancouver | 'Here & There' | Group Show |
| 14 January 2006 | Shakti, Seattle | 'From Here & There' | Group Show |
| 6 June 2006 | Borderline | 2nd Anniversary | Group Show |
| 7 September 2006 | Borderline | 'Uncover' | Group Show |
| 9 December 2005 | Borderline | 'New Beginnings' | Group Show |
| 4 January 2007 | Borderline | 'Two Brushes, Two Spectrums' | Duo show with Win Moe |
| 7 May 2009 | Borderline | 'Kaleidoscope' | Solo Show |
| 6 May 2010 | Borderline | 'Two Become One' | Duo Show with Min Thiha Mon |
| 15 July 2010 | Borderline | 6th Anniversary | Group Show |
| 3 February 2011 | Borderline | 'Reflections' | Solo Show |
| 15 July 2011 | Borderline | '7nd Anniversary | Group Show |
| 2 November 2011 | Sangdee, Chiang Mai | 'Divisions' | Group Show |
| 7 June 2012 | Borderline | 'Artistic Feeling' | Solo Show |
| 14 June 2013 | Sangdee, Chiang Mai | 'Expression from Thai Burma border' | Group Show |
| 5 December 2013 | Borderline | 'December Surprise' | Solo Show |