Chimmuwa is a handicraft group based in Mae Pa, founded in 2004 by Sylvia Lin together with Nor Nor. The name "Chimmuwa" refers to a long white woven Karen dress traditionally worn by unmarried young women.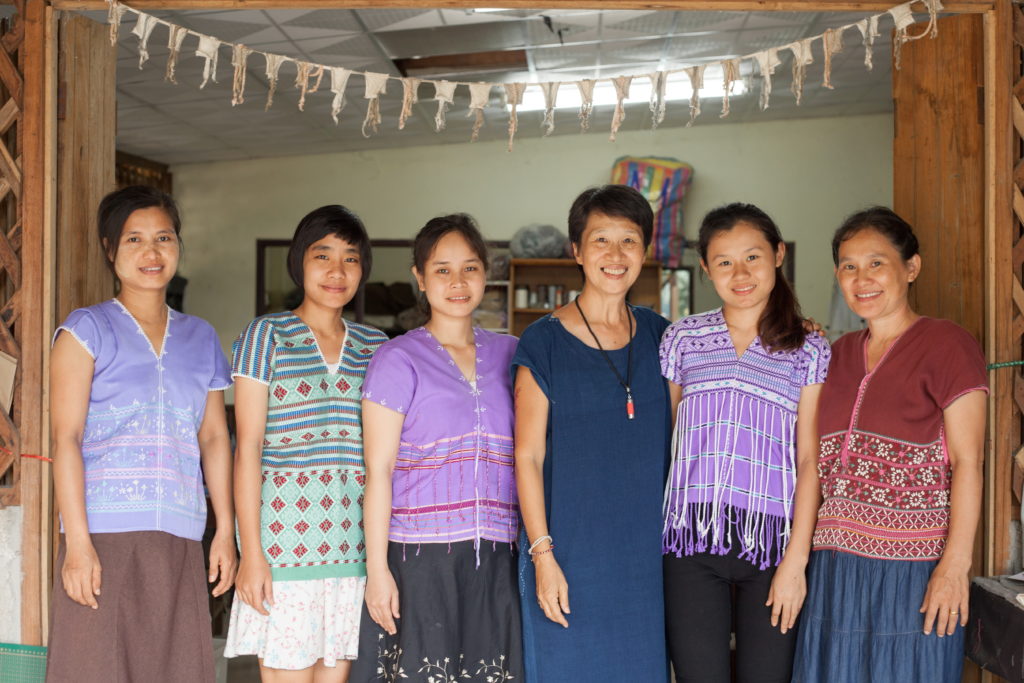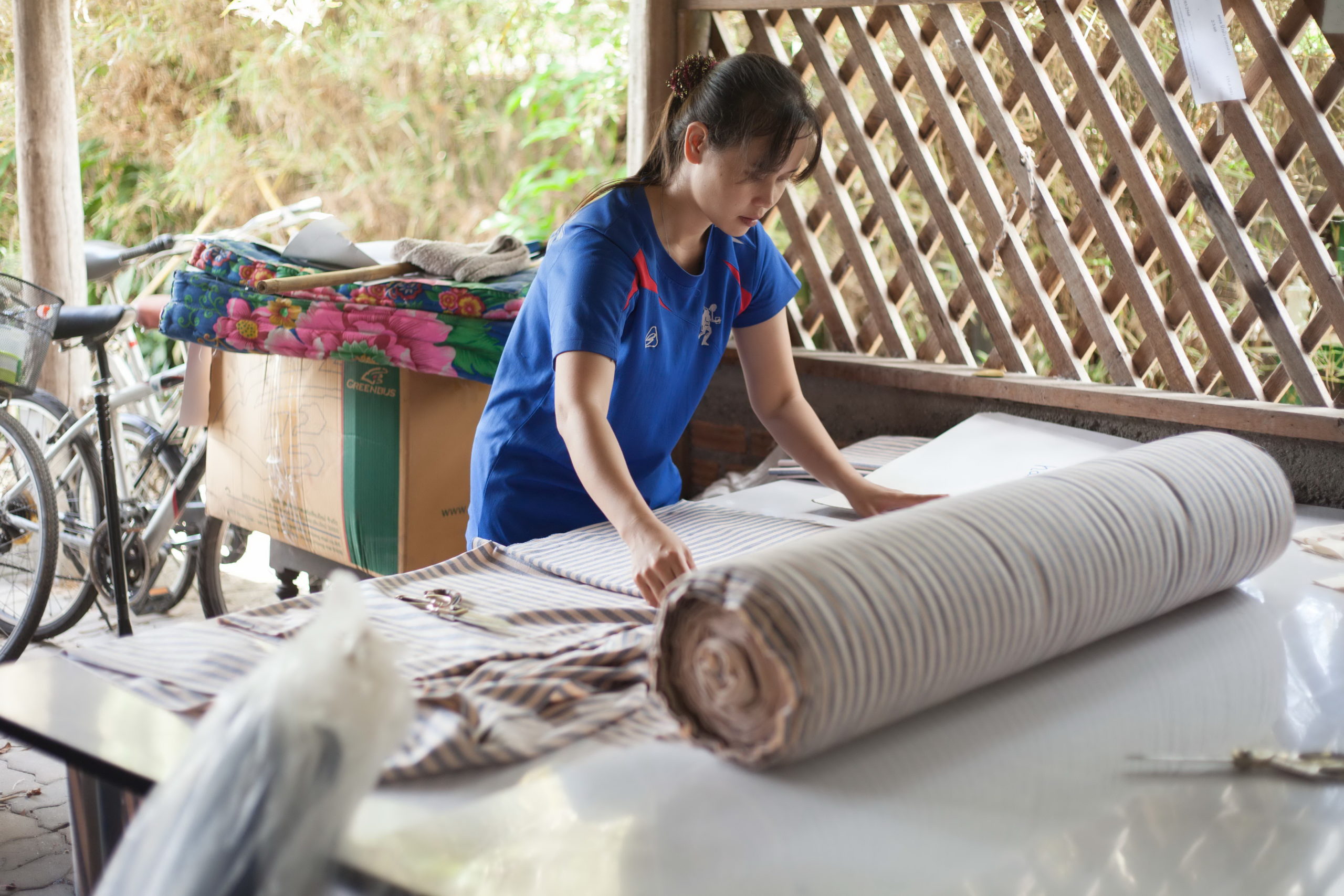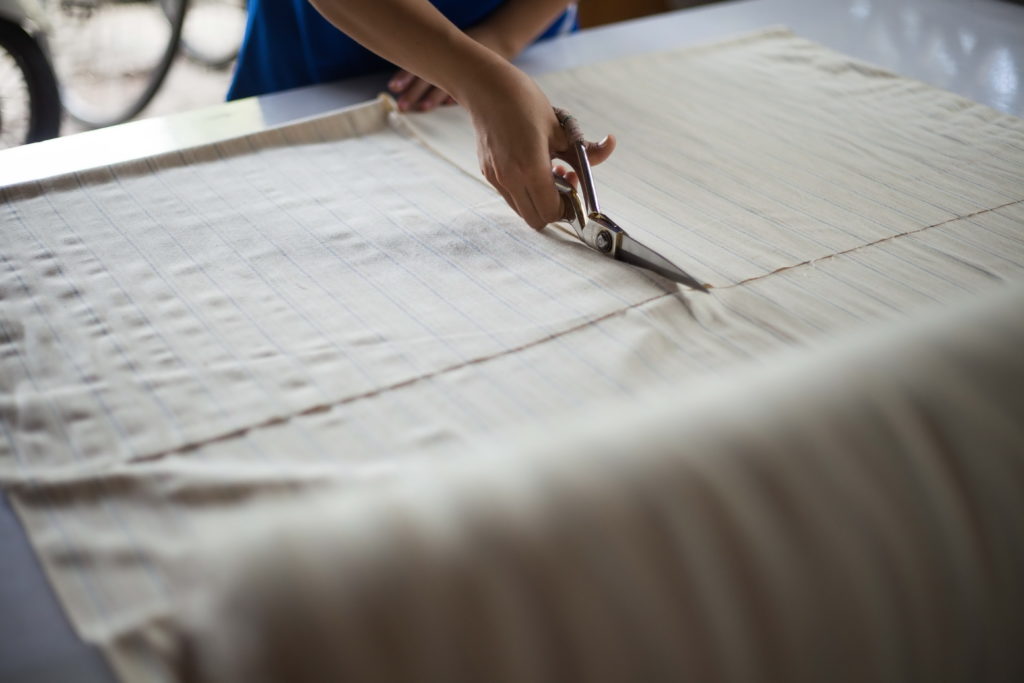 While working for Taipei Overseas Peace Service (TOPS) in Mae Sot, Sylvia Lin got immersed in Karen culture. She would visit the refugee camps and villages along the border. In these small communities she discovered that while old skills were still around, young people would leave for Bangkok and modern technology. Her love for the people and the handicraft she found gave her the idea to set up an organisation that worked to keep the old tradition and weaving techniques alive by helping to sell the handicraft.
When she met Nor Nor, who herself had been trained weaving and sewing, her plan could be implemented. At first working from the office of TOPS, later Chimmuwa would use Sylvia's house as production place. Young Karen women were trained by Nor Nor while Sylvia roamed the area to find fabrics and threads.
At first there were two audiences for Chimmuwa's products. Those who came to Mae Sot to work in the aid community and the many friends at home in Taiwan. Over the years designs have changed, production has gone up and new markets found.
As Sylvia understands that a healthy environment is important, she has introduced and supported chemical free cotton production and plant based dyes.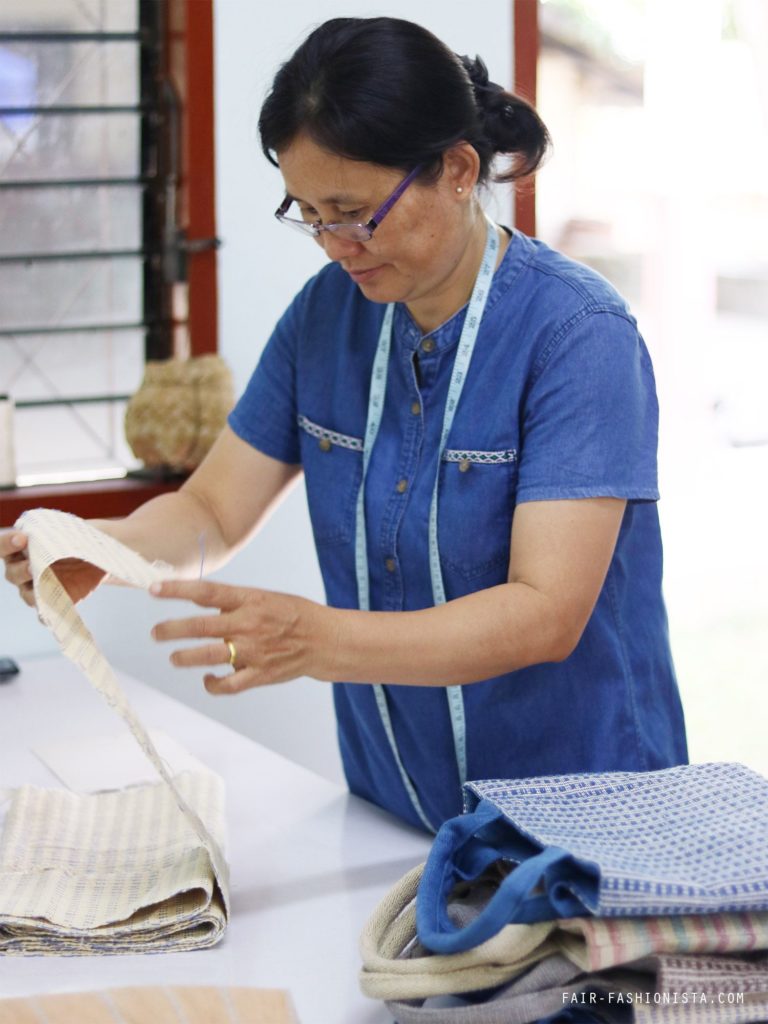 At age 12, Nor Nor started to learn how to weave with her grandmother as her teacher. In her village Mae Tu Ta, Ta Song Yan district, weaving was an art done by most if not all of the women. This skill was handed over from generation to generation and weaving mostly happened after all other work was done.
When Nor Nor was skilled at weaving it was her aunt who taught her how to use a feet powered sewing machine and her love for creating clothing had started.
When Nor Nor was 23 she went to Mae Sot for work and there she met Sylvia Lin who was thinking about starting her own organization creating handicrafts and clothing. Nor Nor's skills turned out to be a perfect match for Sylvia's ideas.
In Mae Sai Nor Nor participated in a training to learn new techniques designing bags and other items. From then on she kept learning things, mostly by doing and comparing with other designs.
Now Nor Nor leads a small team of dedicated seamstresses who she has trained to be independent workers. She creates new designs constantly and collaborates with every creative person that crosses her path.
Besides running the workplace, she also organises and conducted workshops and weaving demonstrations. She keeps working hard to improve Chimmuwa.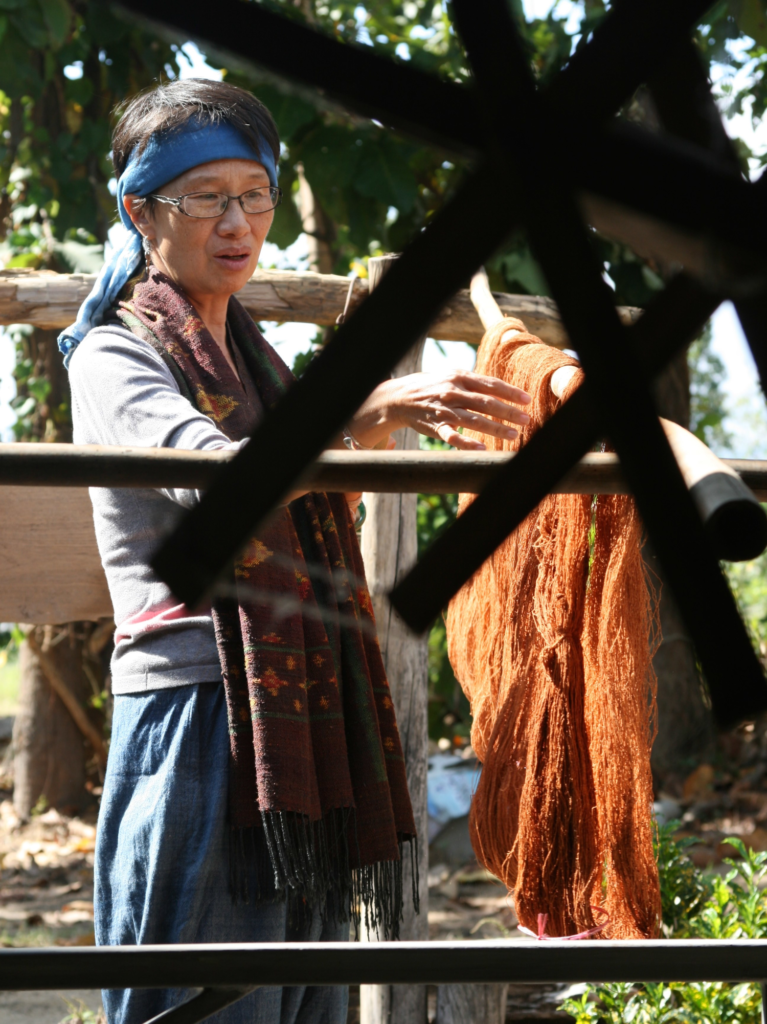 After decades working in the international aid world, Sylvia decided in 2004 to do things differently. For ten years she had been working with TOPS in Mae Sot where she co-founded Thai Border Children Assistance Foundation (TBCAF). At TOPS she met Nor Nor and her plan to start her own organization became a reality.

Further talks with friends in Mae Sot led to another creation of Sylvia and Borderline was founded. All these different organisations are a reflection of Sylvia, who more than anything else wants to bring people together.

She also connects the villages where cotton is grown, threads are spun and natural dye is added with other villages where fabric is woven and with the seamstresses at Chimmuwa and the people who run Borderline. Eventually this link continues to those who buy and wear the products.

With her language skills she also connects the inhabitants of Mae Sot with the visitors from abroad and the workers in the international organisations. It's no surprise Bordeline Tea Garden is a meeting place.

Her latest ventures are workshops in natural dye and weaving, which brings people in the communities where those ancient skills are still professed. And there is also Auh-Mei Au-Tee Eco Farm where one day a hospice will arise.
The production process of Chimmuwa has been designed to make sure all parts of it follow the principles that Sylvia and Nor Nor feel are important. This means that Chimmuwa knows most people involved in every part of production.
Most of the fabrics they use for their products are hand-woven Karen fabrics made by weavers from various villages scattered around Thailand. Over time they have established a relationship with weavers from 10 different villages.


There are two product groups in Chimmuwa, one uses chemical free, handspun cotton and natural plant based dyes, while the other group uses cotton with unclear background and natural plant based dyes. The only reason there are two groups is the fact that there is not enough supply of chemical free cotton.
The first process starts with the cotton plants that can grow buds year after year and left uncontrolled can reach great heights. When the cotton is ready, the buds spring open and the soft fiber can be harvested by hand. After drying the seeds need to be removed and then the spinning process turns the fiber into threads.


At Chimmuwa each seamstress is responsible for the whole process of each item. From selecting the fabric, measuring the shape, cutting into the right size, sewing parts together, adding zippers and buttons, and whatever else is needed until the product is ready to be sold.
Staff starts the day with yoga, and all is done to create a healthy working environment. Finished goods are send to places like Borderline.
Over the years they have developed a wide range of products with their special fabrics, and have also had the opportunity to collaborate with designers and volunteers to develop new designs and patterns. They are constantly developing and experimenting with new designs.
One of the main purposes of Chimmuwa is to preserve the traditional weaving culture of the Karen people. They also actively encourage villagers to use plant-based natural dying, and if they can- to grow their own cotton organically.
Chimmuwa believes it's important to contribute and share their knowledge and skills with other organisations or groups, they do this by sometimes helping local organisations or individuals through training in sewing and product design.


Tree basks, plant leaves, roots, fruit all can be used to turn the whiteness of the cotton into something else. This is usually done by a group of women who make this a communal gathering that ends when the long string of coloured threads are hung to dry.
These threads are then turned into fabric on wooden looms or on smaller backstrap looms. These fabrics are then transported to Chimmuwa in Mae Pa where Wah Wah, Eh Eh, Gey Ler Paw, Paw Moo and Sar Ma Mu create clothing and handicrafts, pillow covers and bags, pencil cases and note book covers, children toys and clothing.


There are many beneficiaries of the process by Chimmuwa. Each person in the production process, from the cotton to the final bag. By encouraging chemical free production, also the larger communities benefit from cleaner streams and soil. The seamstresses at Chimmuwa and finally Auh-Mei Au-Tee Eco Farm, the hospice and TBCAF who are all supported by Chimmuwa.
Chimmuwa strives to limit the impact on the environment by avoiding the use of packaging, encouraging eco friendly farming techniques and the use of plants for dyes.
It also designs and make products that are eco friendly in use. A good example are the reusable cotton sanitation pads. Besides a much lower impact on the environment, these pads also help young women saving essential funds by reusing these pads.
collaboration with Borderline
With a shared founder, Chimmuwa and Borderline have collaborated from the start. This means that most of the working ethics can be found in both organisations.
Workshops are organized by both organisations where the role of one supplements the role of the other.
In finding markets both organisations benefit from each other's extensive experience and connections. Often new products for over seas customers need to undergo a long process of design, sample, re-design and parcels and postage in between. When this happens for another women collective member, often Chimmuwa offers its assistance and expertise. Also in dealing with local authorities both organisations collaborate often.
An organization like Chimmuwa can never look too far in the future as development is more like an evolution process than big steps at high speed.
Finding material and making products is one aspect of Chimmuwa, finding markets in a world where cheap and fast are keywords is a bigger challenge.
While a growth in sales is being sought, Chimmuwa also hopes to expand in another way by organizing workshops and trips to the villages so people can witness how the products are made. This also benefits these communities.