Choosing a name for an organisation, a business or a collective often is an exercise in brainstorming, collecting, eliminating, drafting, discussing, more collecting, drafting, eliminating, planing, sandpapering, deciding, changing, until at some point that name that always had to be the name was discovered, unearthed, brushed off, polished, and put on a letterhead. In 2004 there must have been several meetings before it was decided that Borderline should be called Borderline. After the name had been connected with an email address it turned out that the name Borderline is mostly associated with organisations who deal with people who have mental challenges. When later our website was launched some people discovered Borderline Collective by coincidence.
The tagline in our logo, which is also the title of this blog, must have taken some time as well. And like the name Borderline, it makes absolutely sense and could hardly be improved on. For over 17 years Borderline has been that place and this weekend it will once again be the host of creative expression.
Originally we started to help out Women Groups who tried to generate extra income for their organisations. Besides some meager funding, the members of these organisations often didn´t have much more than a place to stay and food to eat. Sharing one building with multiple people, without possession of proper papers they also had difficulties going out and around. It was this what Borderline tried to help with, a place where at least the products the groups made could be displayed.
The groups all originated in Burma, and there was collaboration on this side of the border, still each group expressed their unique design, patterns and products. The products made were mostly what had been made for decades, for centuries. Useful bags and longies and shirts and wall hangings. Over time due to exposure, workshops and fresh creativity, the products changed while keeping the patterns to distinguish one group from the other. Wallets, pencil cases, small hand bags, shoulder bags were added to the repertoire. Then came phone holders, laptop bags and children toys. Later still sanitary napkins and face-masks were proof that the groups were very up to date.
In our Tea Garden Restaurant we have a different creativity with food from all over Burma, refined to address those who encounter Burma for the first time. Using local ingredients and preparing each dish and drink on the spot, the kitchen often is a buzzing place where magic happens. And from time to time a new dish is introduced.
The Gallery upstairs of course, is also a place where expression is shown. Dozens of artists have had their work on the walls, and like the diversity in ethnic groups and food, the diversity in artists is almost endless. Realism, Impressionism, Pointillism, Cubism, Abstract Art all these have adorned the walls of the Gallery. Water Colour, Acrylic, Pencil, Charcoal, Oil the artists used all mediums they could find. Canvas, paper and plywood has been used. Enormous paintings and small post card sized works. The topics varied from Buddhist Monks to sellers at a market, from faces in remote areas to the face of Aung San Suu Kyi, from scenes in nature to famous buildings in Burma.
Moste members of the Gallery Collective worked in the factories in and around Mae Sot. A painting sold was often an extra months income, shared with family back home. Some artists have been able to start teaching in the many migrant communities in Mae Sot. Some artists could not return to Burma if they wished. The art they made was truly an expression in exile.
Starting on 2010, the situation in Burma slowly improved until many people who had to leave the country to avoid being persecuted or who had spend many years in prison, could return home without risking prison time again. For a few years, Burma opened up and people started to believe in a better future.
February 1 shattered all those hopes and once again people need to run, to hide. While this is a return to the old days, the reaction so far has been very different than in the past. The outcome is still unclear.
For some artists this means that one word in the tag line, that a year ago looked unnecessary, has returned and once again their art is made in Exile.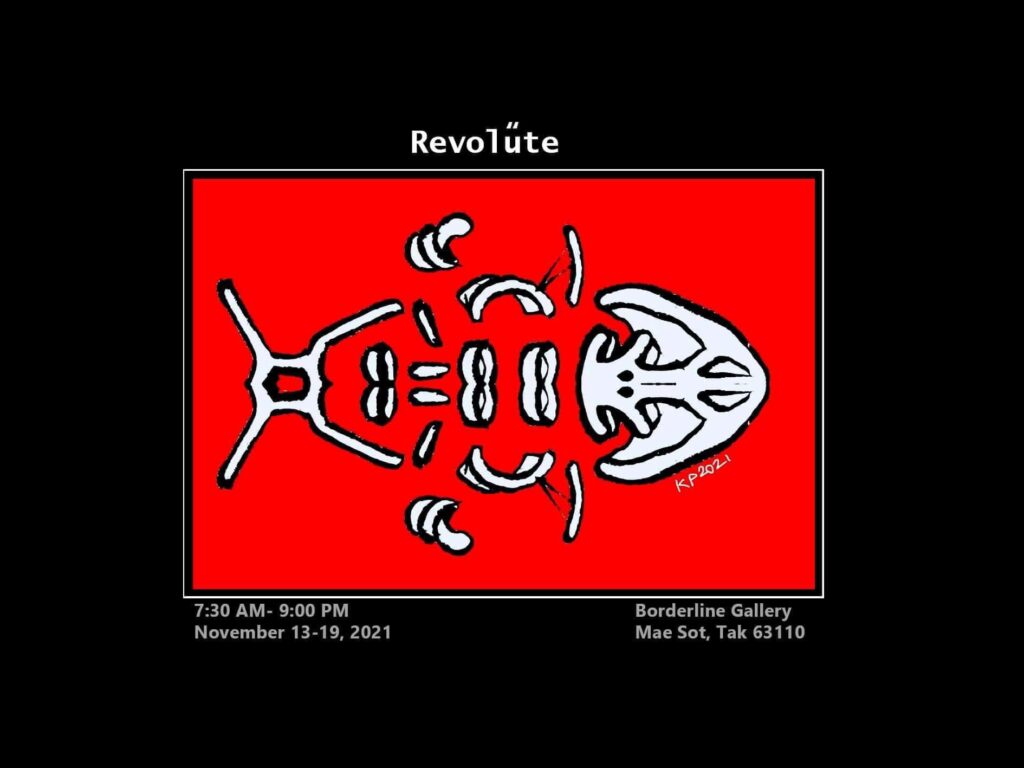 This Saturday is the opening of a special art show. Inspired by the recent developments in Burma and motivated by the plight of their people, a selection of powerful art will decorate the walls of Borderline. After 17 years still a A Creative Space for Expression in Exile
The Gallery will be open from 6 pm, one of the artists will be present shortly after that to tell us about the art and the ideas behind it. The works can be seen for a whole week and can be purchased as well. Printed copies of the paintings, 5 by 5 inch in size, will also be for sale. Part of all proceeds will be used to support communities inside Burma.
#art
#expression
#springrevolution
#Burma
#Myanmar