The Mae Sot entry in the 1999 Lonely Planet reads as if Prince's Party did result in Y2K really being the end of an era. None of the Guest Houses mentioned exist anymore and if you look for the places to eat, you will go around hungry, they have stopped serving. There is mentioning of Khao Mao Khao Fan, the Jungle Themed restaurant on the road to Mae Pa and the small vegetarian place in a side soi from the Grand Mosque street, apart from that it is all gone.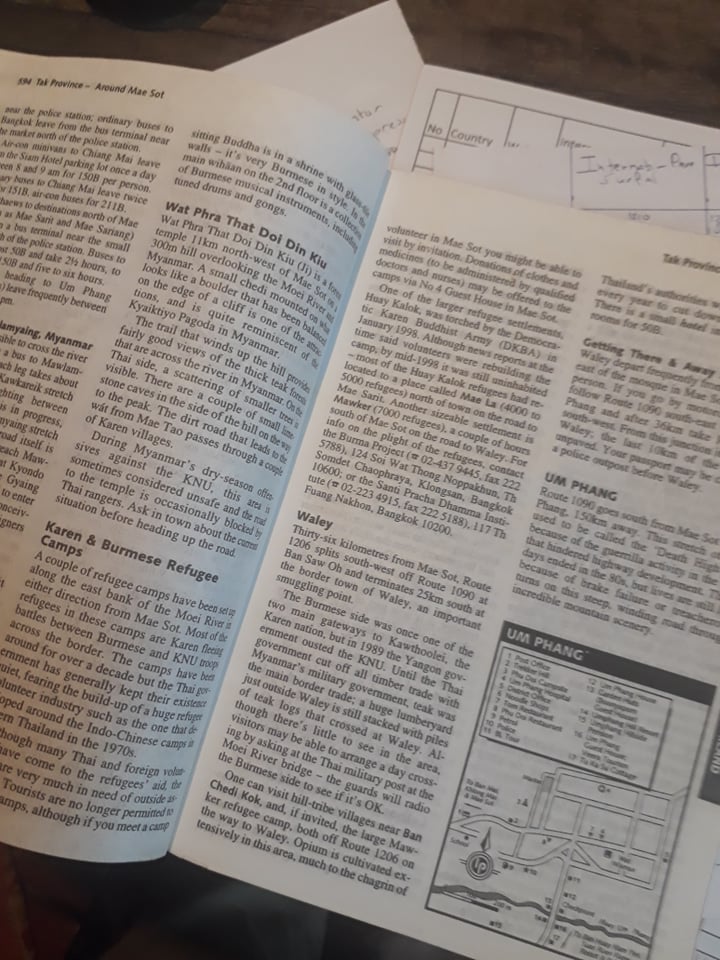 The entry about the refugee camps suggests it was somewhere completely different. Mawker, which in 2000 was moved to Umpiem Mai, had more people than Mae La, which also served as refuge for the people who were burned out of Huay Kalok. In between the post and the printing of this LP, the people had returned and seen Huay Kalok burned down again, for many families this was the third time if not more that their house was destroyed in a deliberate fire. In early 2000 the people of Huay Kalok were also living in Umpiem Mai.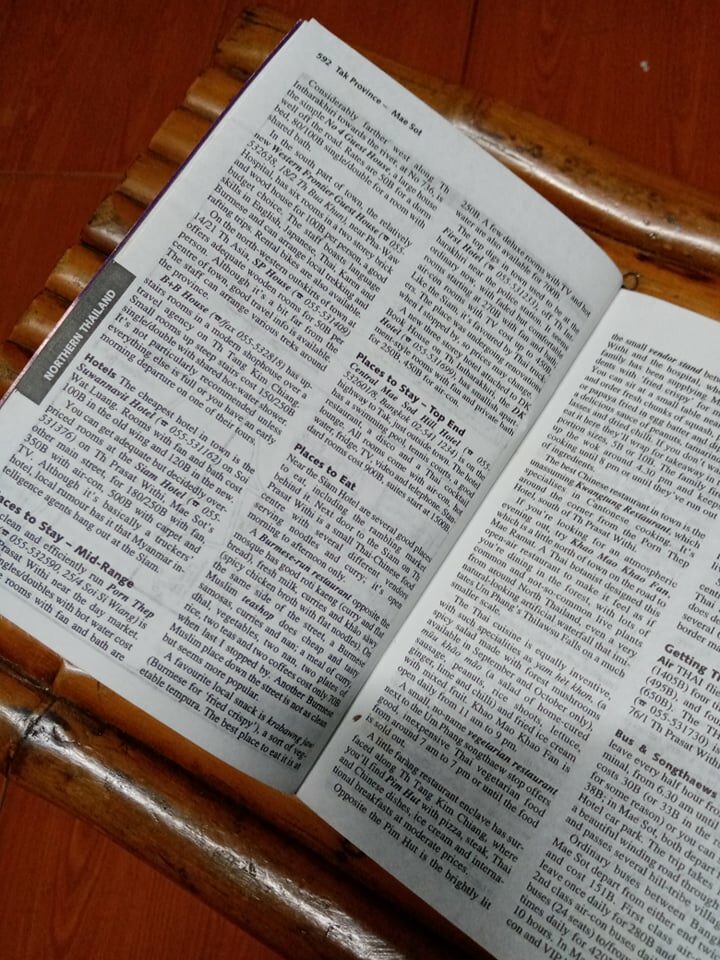 Even in early 2000 there were places that had opened since that 1999 LP and now cannot be found. The River was a lovely and very popular small restaurant that served breakfast and lunch and had the first and only espresso machine in Mae Sot. One cup at a time, served in a small cup and saucer. The avocado sandwiches were a favourite.

Khun's Bar was opened and later closed in the same weekend as Crocodile Tear, the bar that was mentioned in 1999 and a very popular place in the weekend. Khun opened again and then closed once more. Crocodile Tear stood empty for a few months and then Thaimes Bar opened in that spot run by Khun's former staff, to be kicked out when the owner tore the building down, so Thaimes Bar became Mali Bar further west on Intharakeeree. Khun's first location later became Mestizo. Madam Jury tried as a wine bar in a house with a spectacular wooden staircase. That house, once again hidden, Madam Jury's sign still visible 10 meter's East from Casa Mia. Aiya opened in a small place near Pha Nu GH, grew into a larger place opposite Bai Fern where activists and those with an interest in all things Burma would meet and talk. For years the owner has mentioned opening again.
The Expact bar was run by former political prisoners and for a while organised weekly movie nights. It became something else and something else and is now used as a house. Mai Thai was the second something else, and that was the 4th of 5 locations before the owner went back home in North Thailand. The Northern Thai dishes are still missed.
Wadee was a Burmese restaurant opened by the owners of Crocodile Tear in Casa Mia street and run by staff from Crocodile Tear who later took it over. After several years serving favourites like Chin Baun Kyaw, fried Roselle, they moved the place to Hpa'An where they have been even more successful, pre-covid.
In 2000 there were also places we can still visit. Canadian Dave had just opened with generous plates of international food. His place was the first in Mae Sot with good cheese, made in Thailand. Bai Fern was another popular place with Dutch apple pie, tested and certified by an accredited person. Bread was made and pasta served that did not come from a packet but was made in the kitchen. The Italian pasta trainer learned it herself from a book.
Cook Ta at Baifern later went to work at SP kitchen on Asian Highway until she opened the first of 2 Casa Mia's. Both buildings, SP kitchen and Casa Mia 1 have been demolished. Ta also introduced Food Hubbie, a motorcycle delivery service. Her idea is now stolen by venture capitalists in Silicon Valley.
Walking around Mae Sot you cannot help notice all the places that are closed, these are not just food places. The local economy has been hit hard due to covid. Walking around Mae Sot you can also not help noticing that there are new places being opened, prepared, upgraded. The new places often look shinier and glitzier than what there was in 2000. Chimney Restaurant opened just before covid, the Secret Garden is for many still a secret, just 2 of the new places eager for Mae Sot to turn to normal.
In 2000 there was espresso at the River and strong brew through a sock at the walking market, on the spot where you can still find it. Thai mostly drank water and green tea, and three in one coffee. Now there are modern coffee places everywhere, not just in Mae Sot, also in the rural surroundings, and walking around with a throw-away-beaker full of coffee is now a hip thing to do. At Borderline we are occasionally asked why we don't have a shiny Italian coffee maker. Like most what we do, we like to keep it simple and we like to keep it special. We know the family who grow and roast our coffee and we like to serve it with just the added hot water. Our French Presses make a contrast to the Italian Gaggia's.
After our first blog, a week ago, we got some suggestions and questions, which means that some of you do read this. Some of those suggestions make sense and yet we will not follow up on it, as it does not fit who we are. As a not-for-profit, or social enterprise, or community-based-organisation or whetever label you can fit on Borderline, we try to fill a gap that exist, try to do things slightly different. In the past we have shelved many ideas because they are already done, by another not-for-profit, or social enterprise, or community-based-organisation. Our weekly film night, which we did for a while, was conceived just before Expact opened their open-air-weekly cinema, so we waited and waited until Expact went for Liverpool-Arsenal and Man United versus Chelsea instead of thought provoking movies.
And bread is done by the Sister of Holy Infant and at least two other organisations. So we do the muesli, the cashew butter, the jam and the hummus and sell Sisters bread and help Passport Restaurant selling theirs. And we do the fear mongering Peanut Butter, at least according to First Dog on the Moon. And if you suffer from arachibutyrophobia, we do not feel responsible.
Covid is still with us. Many in and around Mae Sot are still waiting to get a vaccine. Some people who left a year or more ago are returning, vaccinated and tested. Hopefully this will bring some release to all those places in Mae Sot that lack customers.
If you search further on this website you will see changes since last week and there is more to come, another slow in-house-project. For reactions as we still don't have a proper button: [email protected]
And check out our BorderOnline store on www.borderlinecollective.org
#handicrafts
#organic
#Burma
#Myanmar
#vegan
#socialenterprise
#firstdogonthemoon