This past year our donation boxes have been used to help fund efforts to bring food to people who had to hide near the Moei river after their houses and communities had been attacked. Several groups in and around Mae Sot have been supporting people all along the border from South of Pho Phra to areas to the North of Mae Sot.
This past weekend we started our special IWD exhibition with artwork from Sein Sein Lin, who has been a collective member since the start and was once the curator of the gallery and Sandy Shum who helped set up the gallery and for the first few years was one of its advisors.
Sandy Shum is a photographer from California who has been living and working in South East Asia for over 20 years. Buddhism became one of her main topics and she uses a special technique to turn Polaroid pictures into Impressionistic Photos. The result are images that try to put you on the wrong foot, make you wonder if what you see is a photo or a painting, is realistic or abstract, is one thing or another.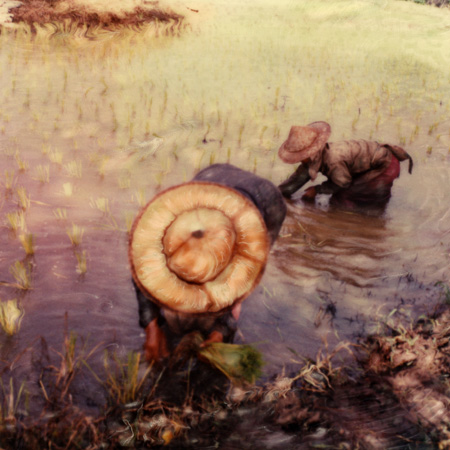 Her works has been available at Borderline since our humble beginnings and Sandy always gave a generous share of the sales to the Gallery, helping it through less lucrative periods.
This year she has become even more generous and all sales from her Photos, Cards and Books will be donated to groups that are helping the communities along the border.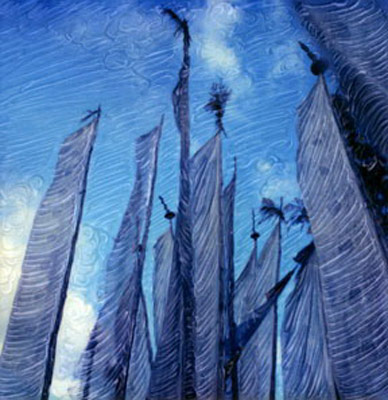 The other artwork at this special show, besides the two named artists we have work from a few other women, will have a 25% donation for the people along the Moei. This 25% is what in normal times is for maintaining the Gallery. The 75% is for the artists for whom it is welcome income.
So please come to our Gallery these next two weeks, enjoy the art, and perhaps purchase something of your liking. And you can always drop some money in our Donation Boxes.
Biodegradable food boxes
Some of you might have seen the boxes in front of Borderline these past few weeks. Perhaps wondering if we have also started a cargo business.
Many years ago, after people asked us to take food home, stryrofoam boxes were bought. As this did not feel right with some of the ideas behind Borderline we looked for a better alternative. We encouraged people to bring their own containers and even offered our own metal carrier boxes , and this helped a bit.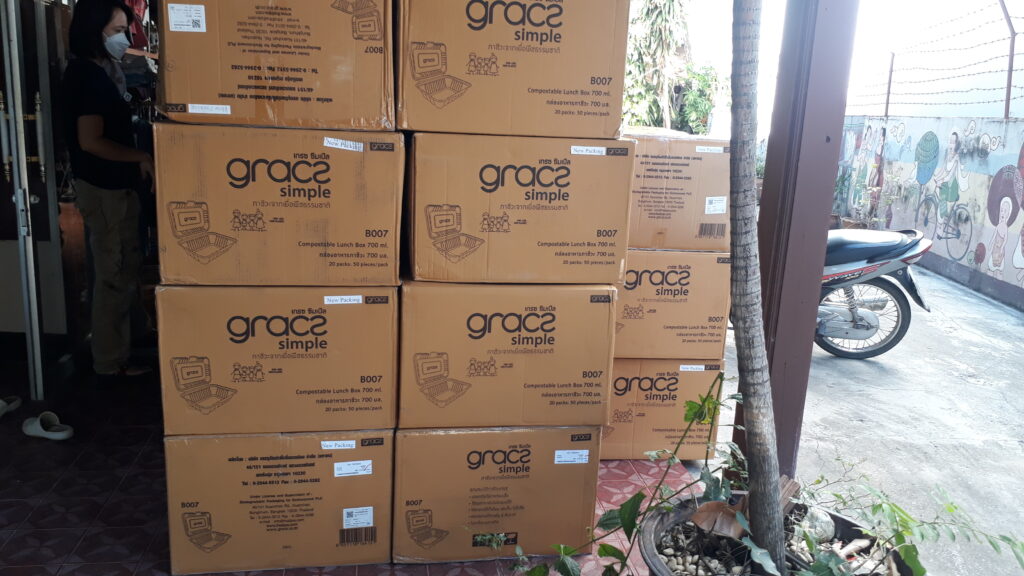 Not satisfied with a bit we finally found food boxes made from bamboo and to encourage people to sit down and eat instead of taking food home, we charged 2 baht for each box, the same money we paid for it. These boxes are biodegradable, although we think most will end up at the rubbish dump anyway.
After the attack on Lay Kay Kaw resulting in people fleeing to the Moei river, several groups prepared food to be distributed. When one group noticed our containers we were asked if we could help finding enough to feed thousand of people for weeks on end.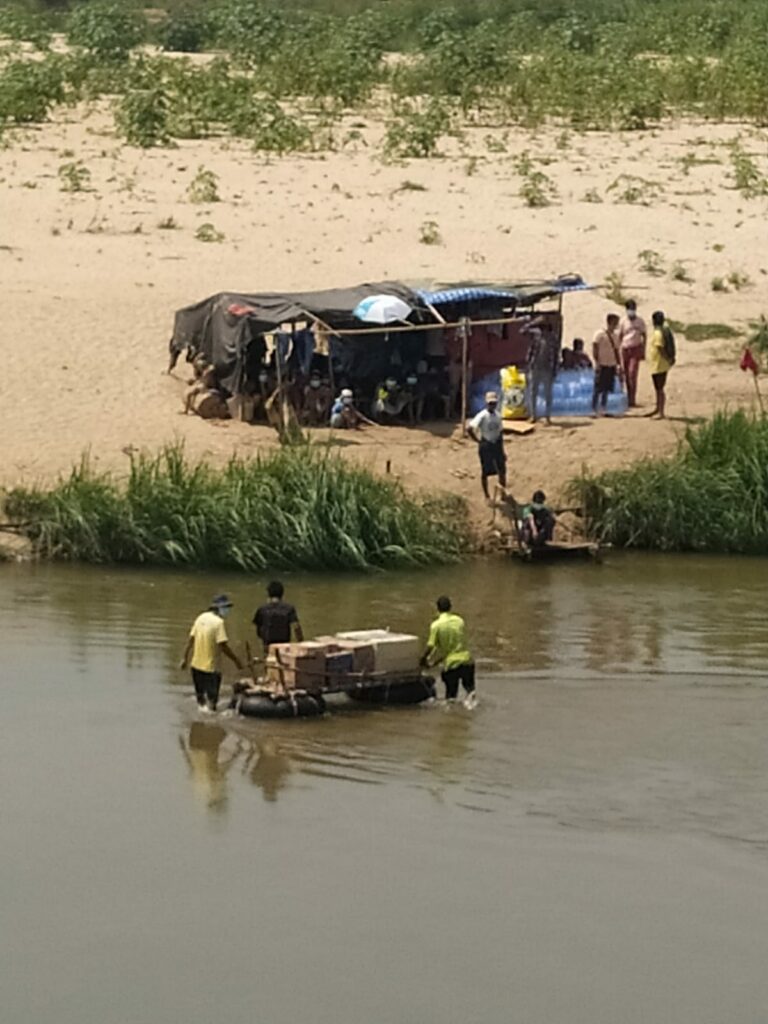 After contacting the company, Gracz, we were informed that by ordering in bulk we could get a much better deal and the company offered to donated 25% extra boxes.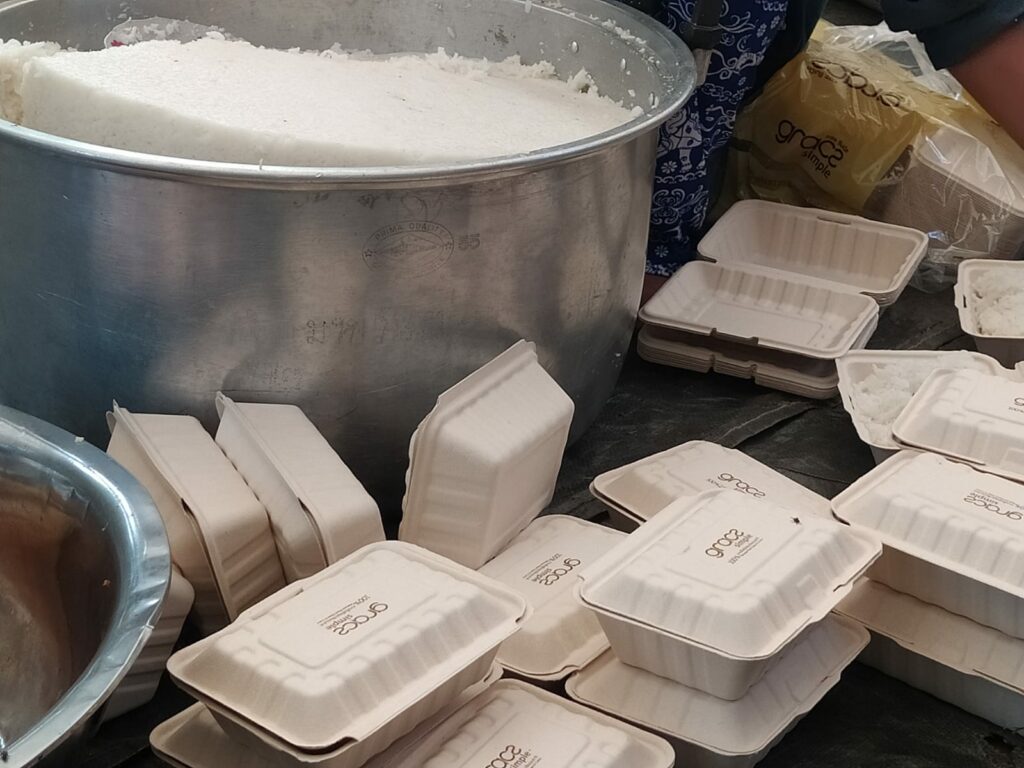 At the end of January the first shipment of 30,000 boxes was delivered and eventually they found their way to groups working on the border. A second shipment arrived mid February and these are the boxes you can see.
The idea is that these boxes can be bought by groups who deliver food to people along the border. Contact Borderline for the conditions.
Of course if somebody wants to donate some boxes, that can be done as well, please contact us.
Contacting us is easy. Apart from Monday we are on our post and we can always be reached by mail: [email protected]
or messenger: borderlinemaesot
or phone: 055-546-584
or mobile phone: +66937196598.
This last number is also Whatsapp and Line.
We also have contact with an organisation who can help find and get Water Filters. Same numbers and email for info.